We were delighted to host an exclusive lunch at JW Steakhouse, Grosvenor House, Park Lane, celebrating the quality and creative versatility of British lamb with Fairfax London competition winners and a special menu created by Paul Bates, Executive Chef, Grosvenor House and Rob Stephens, Head Chef, JW Steakhouse.
The lunch was the final element in a campaign that ran for five weeks in support of Love Lamb Week, a national campaign to promote British Lamb in September. As part of this, we ran our own competition for chefs to win a seat at an exclusive lunch in London.
The group, including three of the five competition winners and our friends at AHDB, came together in London to talk about their love of food, the industry and of course, showcase the creativity and versatility of lamb.
Menu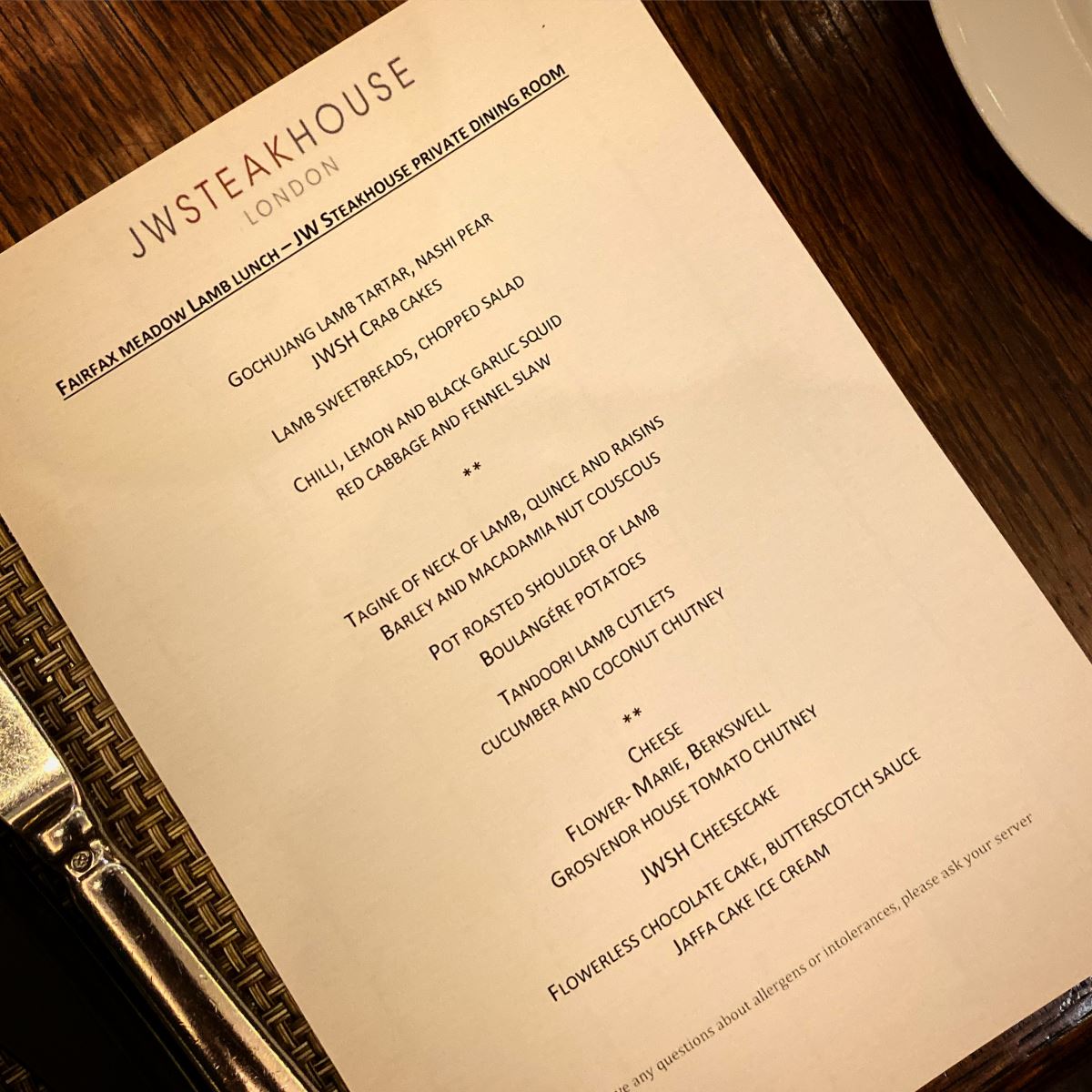 Keen to support British farmers, we provided Cumbrian salt marsh lamb from Grange Over Sands, lamb with great provenance that also met the exacting standards of the QSM mark.
The starter was a trio on a plate, and it was fantastic to see lamb sweetbreads being used, which contrasted with the excellent spicy lamb tartar.
Main dish highlights included a tagine of neck of lamb and a pot roasted shoulder of lamb. The flavour in the tagine was immense. The pot roast showed how beautiful this often overlooked cut of meat is, as it fell away from the bone and was the dish the chefs kept coming back to for more. The dishes were served to the table to be shared so everyone could sample all dishes presented.
"We're incredibly proud to host the winners of the Fairfax London Love Lamb Lunch competition", said Paul Bates, Executive Chef. "It is a great opportunity to showcase our love of British lamb through a unique menu, enjoyed by our peers."
Winners
We had a high number of quality entries to the competition, which ran for five weeks and encouraged chefs across the UK to share the lamb dishes. A winner was selected each week to attend the lunch. All the entries can be seen on our Twitter and Instagram pages.
"There is nothing better than a piece of fantastic British lamb. Slow cooked shoulder in a rich spicy sauce to beautifully roasted rump, it is so versatile and that's why I love it", said Daniel Britten from Britten by Food. "Thank you so much to the team at Fairfax Meadow for the opportunity to join them".
The competition entries and Chef Stephens' menu on the day proved that there is huge versatility in lamb and that the carcase offers more than just a leg of lamb!
"At Fairfax, we're always working hard to put great meat on the menu" said Rob Shears, Head of Sales – Fairfax London. "This event has really demonstrated what can happen when great meat is given to creative chefs. We'll be looking at how to provide more experiences like this in the future".
Do you love lamb?
Find out more about how Fairfax Meadow can help you put some amazing lamb on the menu by getting in touch here.