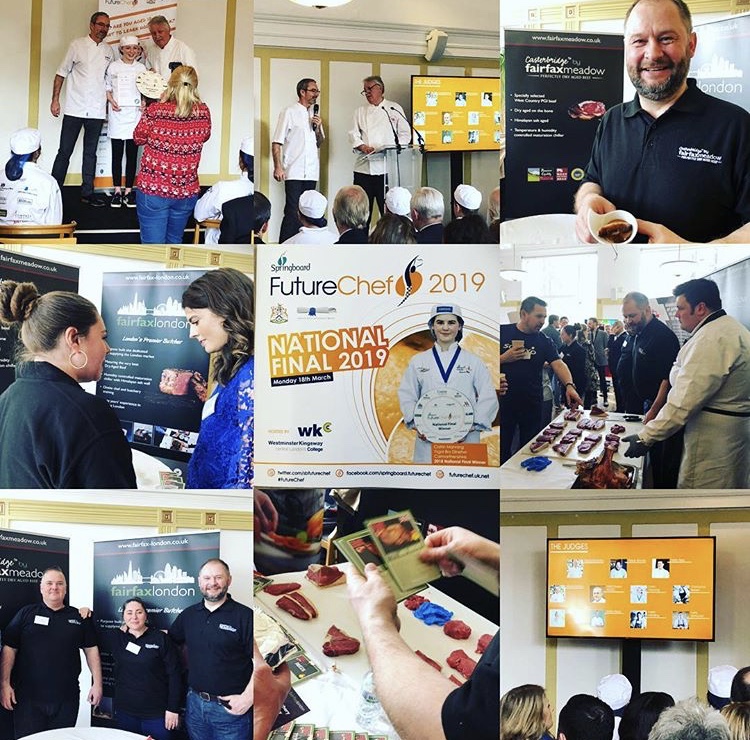 Fairfax Meadow, are again proud to support Springboard by sponsoring the 2019 FutureChef awards which took place at Kingsway College in London recently.
The annual awards draw the finest young chefs from around the UK to the final in London, and an opportunity to be judged by Chef Brian Turner. Finalists had come through a challenging competition process which had seen them win a school prize, a local final and a regional heat before representing their region at the national final.
Springboard's FutureChef is recognised as the best industry backed resource matched to the food related curriculum. Aimed at young people aged 12 - 16, it inspires them to cook through classroom resources & activities, industry skills demos & challenges and competitions & awards.
The standard of the entries was incredibly high and it was encouraging to see the future chefs of our industry competing to win the coveted award. The winner was Jessica Mitchell, representing Central and South Scotland.
The Fairfax London team came out in force to support the event, which provided a tremendous opportunity for the industry to come together to meet the schools, mentors and of course the finalists.
As a sponsor for the event, Jan from our London site provided a butchery demonstration, butchering a rump of West Country PGI Casterbridge Beef to demonstrate how the different cuts are produced. Jan was supported by Rob Shears who provided a running commentary, educating the audience on how the beef is dry aged at the Fairfax London maturation chiller, complete with it's Himalayan salt wall, for a minimum of 21 days.
"It's a brilliant initiative that shows the sector has a bright future" said Rob Shears, Head of Sales, Hotel Sector and Fairfax London. "We have some very talented young chefs and we should do all we can to ensure they are given every opportunity to shine".
Some lucky attendees also took the opportunity to take a piece of steak home to sample the quality!

The celebrations finished with an awards dinner held at The Waldorf Hotel, with the beef for the menu supplied by Fairfax London.

To read more about FutureChef visit their website.